Owner's Representative and Construction Management
Provided consulting services as an Owner's representative including feasibility studies on development options. Coordinating all aspects of design, environmental mitigation, re-zoning, permitting, and construction activities through project completion AND Construction Management services utilizing our General Contractors License in hiring and managing different trade subcontractors.
Projects:
US Department of Labor:
1. Mississippi Job Corps Center
2. Gainesville, Florida, Job Corps Center
3. Atlanta Job Corps Center
Center Pointe Office Building, Sarasota, FL
The Pointe (Chase Bank) Building, Sarasota, FL
Canal Road Property, Sarasota, FL
Dolphin Tower Condominium, Sarasota, Florida
(Currently under construction)
Major renovation to fully remove and replace failed 24" transfer slab, interior demolition and re-building of 7 condo
units, storage area, meter room, pool equipment room, and clubhouse, and full building asbestos abatement
Sarasota, FL
Mark II Condominium
Longboat Key, Florida
Construction Management / General Contractor's services
(Currently under construction)
BLackburn BHarbor Condominium Complex, Nokomis, Florida
Two buildings of 25 residential high end waterfront units, 20 townhouse type villas, over a 35 acre site,including all necessary site development design and construction
Kane Plaza Parking Garage, Sarasota, Florida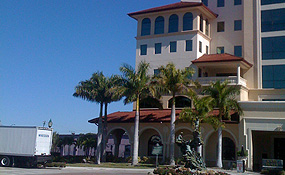 5 story 280 parking spaces structure
Pen West Office Park, Sarasota, Florida
Proposed new 40,000 SF office building
Main Street Plaza and Hollywood 20 Theatre, Sarasota, Florida
Proposed 2 towers of 18 story mixed use office building and condominium,with a 5 story 380 parking garage
Marcia Street Office Plaza, Osprey, Florida
proposed office building with underground / under parking storm water storage vault
First Street Office Complex, Bradenton, Florida
Sun Trust Bank site, 2 story, 7000 sq.ft. office building on top of a 2 story parking garage
Bliss Road Property, Sarasota, Florida
5 acre parcel, site development with all required roadway and site and utility design/permitting
Chase Bank at the Point Building, Sarasota, Florida
Interior renovation - Drive-through design &amnp; feasibility analysis
Center Point Office Complex, Sarasota, Florida
Bank drive-through design and feasibility study
Trautwein's ATA Academy, Sarasota, Florida
Sports Facility
Boat Yard Village Marina, Sarasota, FL
Gastro and Internal Medicine of Sarasota, P.A.
Medical office building